Prop Money Pallet
How We Build the Movie Money Pallet

$50,000,000 (50 Million Dollar) pallet of prop money. This pallet measures 3' 6" wide by 2' 8" front to back, and 2' 6" tall. The pallet of money can be made with two to four sides. If there is no camera move around an outer corner, you may not need to cover all four sides. The prop bundle counts will give you a good idea of the quantity you will need to create any size money pallet or large stack.
Contact us with any questions.
ecomm59@comcast.net
423-987-7332
One Million Dollars in $1.00 Bills
Prop money pallets are created by stacking various sized bank vault bricks of money stacks against the walls of an inner box. The tall pallet above represents $1,000,000.00 in $1 bills.
Movie Money Pallet
The front and back walls, in this example, are made of 6 columns of 60 bundles. The 60 bundles are made up of two 25 bundle, and one 10 bundle, bank vault bricks. One brick, made up of 25 prop bundles, measures approximately twelve inches high.
Side and Corner View
This example has 5 side columns, applied sideways to show the bank strap edge. This looks better and saves on the number of bundles needed for the sides.
Contact us for prop pallet build quotes or, if you are building your own pallet and box, we have photos and many building details that may be helpful.
Our Dimension Examples page has many more photos and specific measurements.
Money Pallet Top
Available in $100s, $50s, $20s, $10s, $5s, $1s, vintage $100s, and any custom bill design.
Contact us with your needs and we can help put together a plan with quantity and build options.
Vault Pallet of Our Euros for "Now You See Me"
There are many options available when building a large pallet, full bank vault, casino money counting room, etc.
Our Bank Vault Bricks for UFC Magazine
UFC Magazine cover
Visit OUR STORE for Bill Styles and Popular Quantities.
Money Pallet with Mixed Denominations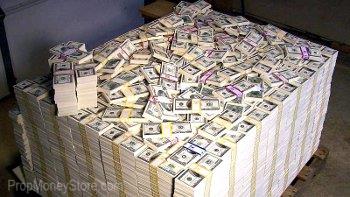 See Our Prop Money Piles Page for more photos and measurement examples.
Used Style Prop Money
Visit Our Distressed Prop Money Page for more information.
Pallet for "Unforgettable"
Our SITEMAP has lots of photos and examples.